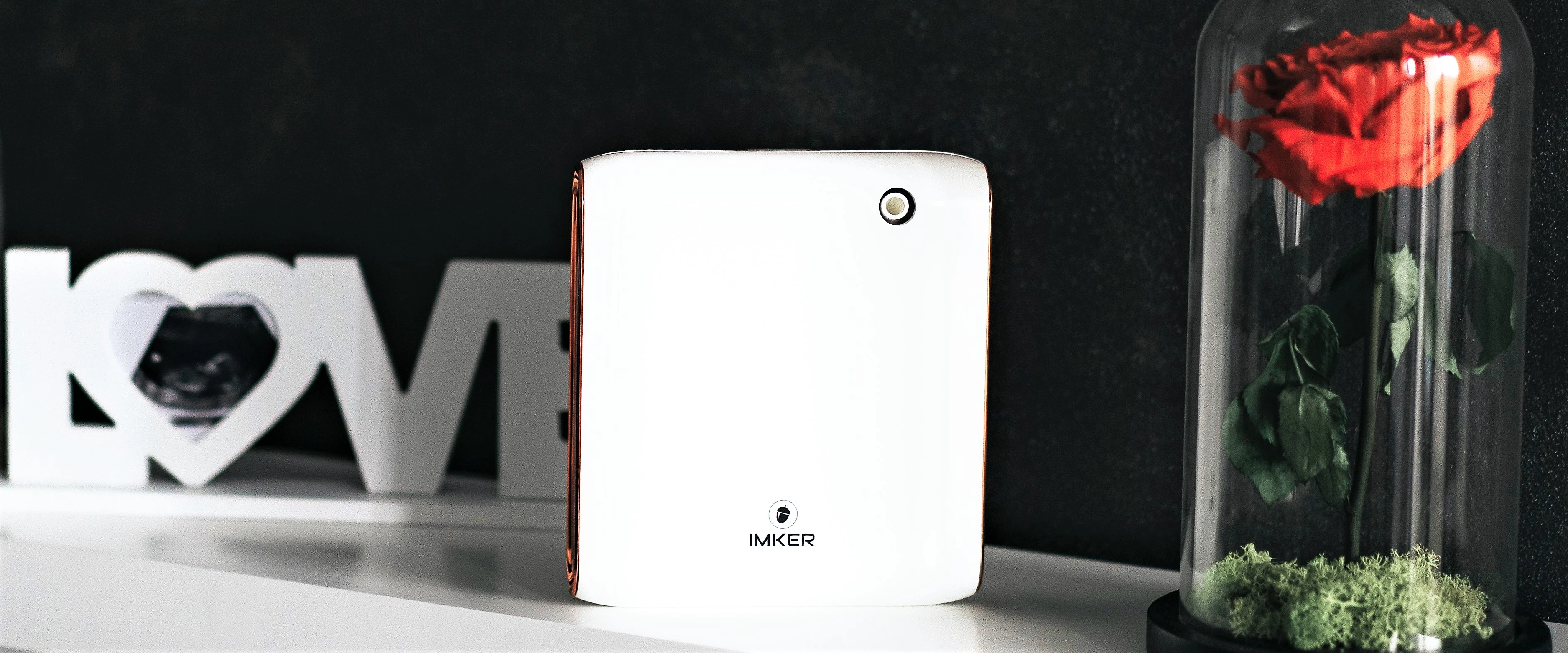 IMKER AromaLUX M03 is the new model of elegant, medium-sized professional air freshener, suitable for use in spaces of 30 to 70 square meters (depending on how the space is arranged). This aromatherapy diffuser effectively perfumes using cold nebulization technology and fragrances made from balanced blends of essential oils. No water is added for diffusion.

Thanks to the diffusion technology through cold nebulization and the perfumes made from balanced mixtures of essential oils, IMKER professional devices can be used both to make your time spent at home more pleasant and relaxing through refined perfumes, as well as to temporarily disinfect the space and surfaces.


The device includes:
- 50 ml perfume reserve, default Blavet aroma, or at your choice from the most appreciated blends of essential oils from the IMKER AromaNatural collection. (recommended BLAVET, MISTERIOSO, GARCIA, AMORIO) or any existing flavor in stock - please mention in the Remarks column at the end of the order if you want to replace the Blavet flavor with another flavor)
IMKER AromaNatural is a range of carefully selected perfumes, and balanced, relaxing, welcoming fragrance notes.
A reserve of 50 ml lasts 2-3 months depending on the level of intensity of diffusion.
- free testers from the other flavors in stock (for the first order or upon request) that will help you discover how several IMKER perfume flavors smell and establish your favorites for the future.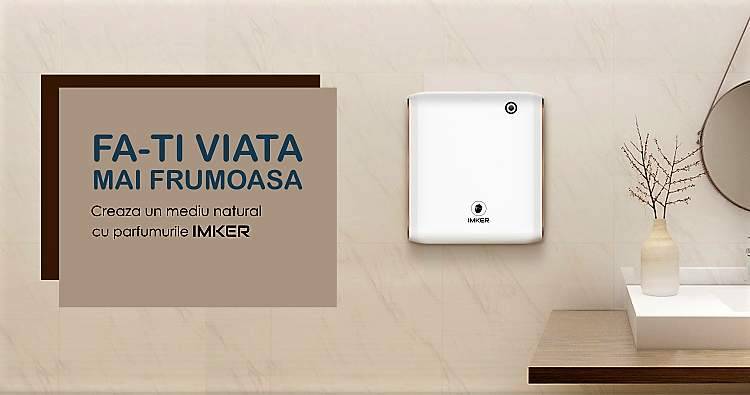 Benefits of the new IMKER AromaLUX M03 professional room freshener model

Efficient and convenient perfuming: The professional device uses the newest and most efficient perfuming technology called cold nebulization or atomization. Now the technology used in the commercial spaces of the big brands is also available for use at home.

Cold nebulization preserves the properties of natural essential oils, transforms pure essential oils into ultra-fine particles, and allows the consumption of a small amount of oil mixture, to obtain a long-lasting, very pleasant effect.
Because the oil is used without the addition of water, the device can be programmed and it will diffuse without the need to activate its spray for several months (depending on how much the tank is filled. a 100 ml tank can diffuse, and 6 months at an average broadcast level)

Natural and refined perfuming for your home: the device uses IMKER AromaNatural perfumes made from mixtures of natural essential oils to diffuse them. The perfume is used by the device without the addition of water and disperses in small particles in the air, transforming the space of your home into a subtly scented space, with balanced, relaxing perfume notes. The perfume is welcoming for the whole family, pleasant and surprising for guests, and harmless for pets.
You can use perfume flavors from natural essential oils IMKER AromaNatural or GoodLife starting with 25 ml (minimum), 50 ml, 100 ml, or 200 ml (which can be used for refill)

It has 10 levels of intensity, according to your preferences: One of them surely suits the space where it will be installed and the preferences of those who live there. The cast time for all 10 levels is 3 seconds. As the programmed intensity level increases, the break interval decreases from 15 min to 1.5 min. (e.g. level 1 sprays for 3 seconds and pauses for 15 minutes, level 5 sprays for 3 seconds and pauses for 9 minutes)

Persistent perfume, low consumption: it is fully programmable for days and hours, to make the consumption of perfume more efficient and to disperse the particles evenly. Programming is done from the phone through a free application that connects to the device via Bluetooth.


The IMKER AromaLUX M03 model will use the same setting mode as the IMKER AromaLUX M02 (connection via Bluetooth, through the same application). Because this method of setting is already known and very versatile and efficient, the new model will use the same application. Users who already have the M02 will already be familiar with it.
Connecting to the application is only necessary when the broadcast levels and intervals are set for the first time, or when changes are made, i.e. for a few minutes. After the settings are made, the phone can be disconnected from the device and it will continue its broadcasting program as it was set.

Premium appearance: The new IMKER AromaLUX M03 will be a jewel for your home. The details are fine and discreet, just enough to bring an extra touch of elegance to your home, in addition to the pleasant and persistent fragrance it will emit. The elegant appearance is given by the combination of white, black, and a little chrome, with special finishes and curved lines.


Covered area: Intended for areas between 30 - 70 square meters, such as apartments, houses, living rooms, offices, bathrooms, and hallways. It is also effective for reducing the specific odors of pets or tobacco, creating an atmosphere with a pleasant smell.


Elegant and discreet: It does not take up much space because it has small dimensions (14.6x15.6x5.8 cm).

Flexibility for positioning: it can be placed on a piece of furniture, where it has very good stability (an improved aspect compared to the M02 which could be slightly unstable). It can also be fixed on the wall (it has a mounting bracket and accessories included).

Protected tank: it has a lock with a key to protect the essential oil reserve (access control of children or unauthorized persons, if it is mounted in a space dedicated to customers)

Autonomy of up to 3 months of diffusing based on batteries, without depending on an outlet: The M03 model uses two type D (R20) batteries with which it is delivered (Varta Longlife R20). Compared to the previous model that used only one battery, this one will have greater autonomy, without the need to take care of the batteries for up to 2-3 months. Furthermore, the new model also keeps its connection plug for the power supply (MicroUSB type - cable and charger are not included).
When the batteries lose their power, the device starts to emit a short sound along with broadcasting, which is the signal that the batteries must be changed soon (it is also a protection against leaving the batteries in the device and having insufficient power for broadcasting or to produce the leakage of certain elements from old batteries, which could be a factor of corrosion of the connecting elements)

Durability and preservation of appearance over time: the device has a surface that does not scratch easily, and cleaning is very simple with a microfiber cloth and medicinal alcohol.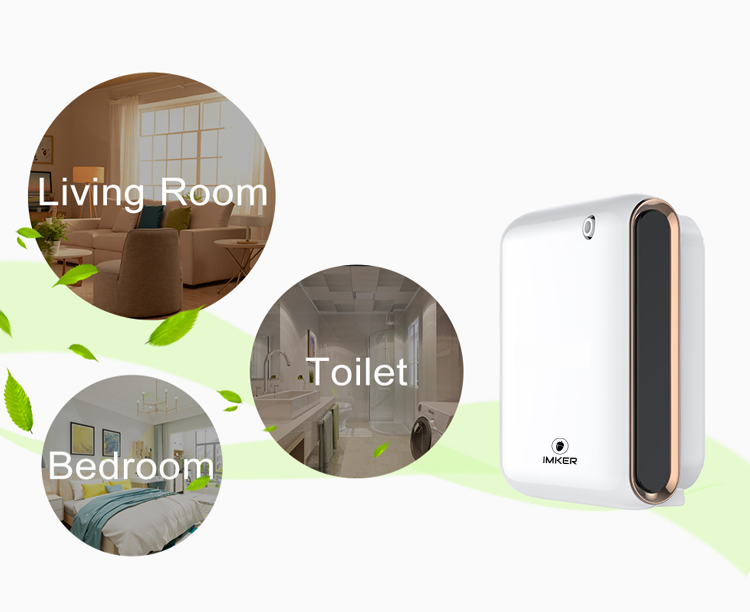 The perfect gift: for him or her, the IMKER AromaLUX M03 essential oil diffuser can be that special gift you are looking for to surprise your loved ones. It is a very suitable gift option for a new house gift, for employees or friends.
The elegant appearance, the premium design, and the perfumes for all tastes make this device the unique and perfect gift that he surely does not have and that he will appreciate very much. We can pack it and deliver it directly to the celebration!

Technical data:

Color: White front/back with black and copper sides
Essential oil tank capacity: 100 ml
Dimensions: 15.3x6.3x17.5 cm
Reservoir: 100 ml capacity (proper, in which perfume is placed) the capacity of the reservoir allows it to diffuse for 6 months without the need for refueling.
Action: between 30 and 70 square meters, depending on how the space is distributed.
Weight: 583g
Use: room freshener, house, apartment, commercial premises, bathrooms commercial premises.
Compatible perfume: perfume from IMKER essential oils. You can use reserves of 200 ml, 100 ml, 50 ml, or even smaller, of 25 or 30 ml. The device is delivered with 50 ml of BLAVET aroma essential oil perfume included.
Diversity: more than 20 aromas from essential oils that you can choose from. Whether you keep your favorite (s) for a long time, or whether you want to change to more flavors, for diversity, depending on the season or other preferences, from the IMKER collections you will certainly find many elegant and persistent flavors to your taste.



Do you want to try other models of IMKER professional air fresheners and essential oil perfumes?
We recommend you:
Aparat de odorizare profesional IMKER AromaLUX XS02 (parfum inclus)
Aparat de odorizare profesional IMKER AromaLUX XL03-L
Pachet combo odorizante profesionale (M02 + XS02 si parfum)
Odorizante pentru casa profesionale
Arome parfum de camera din uleiuri esentiale


---------------------------------
The price of the product includes the green tax related to the collection, treatment, and disposal of WEEE. Please collect waste electrical and electronic equipment (WEEE) separately and do not dispose of it together with unsorted waste.
Free pickup in the "one to one" system
IMKER Invest can pick up WEEE free of charge in the "one-to-one" system (for example, when purchasing a new WEEE-type IMKER device, you can hand in an equivalent old IMKER DEE device, which performed the same functions as the newly supplied equipment), based on a prior request made in the purchase order of the new product.